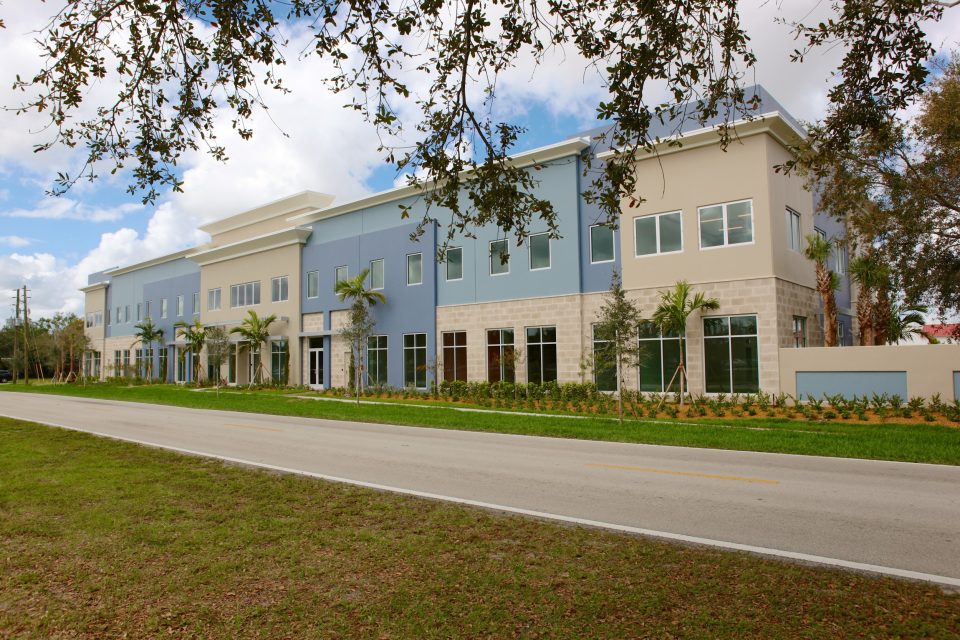 Hernandez is proud to announce that TheraPeeds Family Center was recognized at the 2019 South Florida Business Journal Structures Awards as a finalist in the Community Impact Category

TheraPeeds Family Center
Hernandez Construction
Project address: 5951 Orange Drive, Davie 33314
Key partners
Owner/developer: TheraPeeds
Architect: Barranco Gonzalez Architecture
Interior design: P2 Interiors
Concrete walls: RCX Tilt Up Construction
Financing: Bank of America
The TheraPeeds Family Center is a first-of-its-kind, free-standing therapy center. Built using the tilt wall method of construction, the $6.5 million, 30,000-square-foot project was designed with a blend of steel and glass that contrasted with bright, vivid colors throughout to complement the science-based – but fun – approach that TheraPeeds practices.
The TheraPeeds Family Center was designed to accommodate the more than 60 therapists, staff and clinicians who provide interdisciplinary services, including occupational and physical therapy, speech pathology, nutrition and audiology.
By including a carefully thought-out, age-specific environment and programs designed not just for the individual in need, but also the family or those surrounding them, TheraPeeds and its founder, Dr. Julia Harper, are able to achieve much higher levels of success with their treatment programs.
Throughout the project, Hernandez Construction stayed committed to TheraPeeds' business goals and to completing the project in a safe, cost-effective manner. This allowed the client to focus on running its business.
In the end, the project team delivered a structure and design that reflects a mix of fun colors and beautiful, functional and sophisticated design. The TheraPeeds Family Center provides services for clients that include local residents and families who fly in from around the world.
"This project sets a higher standard for family therapy, with customized design and unique features that combine versatility and functionality with elegance in a way that can only be experienced in a stand-alone center," TheraPeeds COO Miguel Corniel said.
Read more online at: https://www.bizjournals.com/southflorida/news/2019/11/21/2019-structures-awards-part-2.html